Dicalite Europe Announces Temporary Energy Surcharge
March 2022
---
Dicalite Europe, a subsidiary of Dicalite Management Group, an international industrial minerals company, announced today that it is implementing a Temporary Energy Surcharge on its Perlite (PE) and Diatomaceous Earth (DE) product lines. The extreme volatility in natural gas prices is creating an unprecedented impact on our business and we are doing everything possible to ensure continuity of supply. Unfortunately, we must institute this surcharge to cover a portion of the incremental energy increases we are absorbing each month. We want to emphasize that this surcharge is temporary and will only be in place during times of extreme natural gas prices. More details:
Perlite: Delivery performance will not become an issue as we have taken all actions to ensure a safe and reliable supply of Perlite ore for our Ghent, Belgium production facility. We have adjusted supply chains and lead times to guarantee supply to our partners and end-users. This remains our commitment to the European market.
Diatomaceous earth: The usage of DE is at all time high levels and we are experiencing demand that is much higher than normal for several of our product lines. Lead-time is approximately 4-5 months. Additionally, logistics disruption has caused further delay in supply. Unfortunately, many customers are unable to get the material. We are doing our best to support the existing customer base, but that does not guarantee current supply.
The energy surcharge will apply to all shipments scheduled to ship on or after March 8th, 2022. This includes orders that are already scheduled for shipment after that date. Customers will receive further updates on order confirmation for their specific charges. The surcharge for March shipments is based upon the average gas cost for the month of January, which was 84.5€/MWh. The surcharge for shipments 8th of March onwards results in a 56€/mt surcharge. Beginning April 1st, we will use the February average costs of 81.2€/MWh will result in a surcharge of 56€/mt for April shipments. The surcharge for December shipments will be 101€/mt, based upon the average cost of 138,59€/MWh in October 2022.
Energy Surcharge
From 8th of March: +56€/mt for all March invoices
From 1st of April: +56€/mt for all April invoices
From 1st of May: +101€/mt for all May invoices
From 1st of June: +74€/mt for all June invoices
From 1st of July: +65€/mt for all July invoices
From 1st of August: +74€/mt for all August invoices
From 1st of September: +128€/mt for all September invoices

From 1st of October: +191€/mt for all October invoices
From 1st of November: +164€/mt  for all November invoices
From 1st of December: +101€//mt  for all December invoices
Invoicing mechanism: Will be stated on a separate invoice line
Changes on a monthly basis will be automatically implemented on order confirmations and invoices
Details and mechanism: www.dicalite-europe.com/
Spot market data for TTF index: www.ice.com/marketdata/reports/282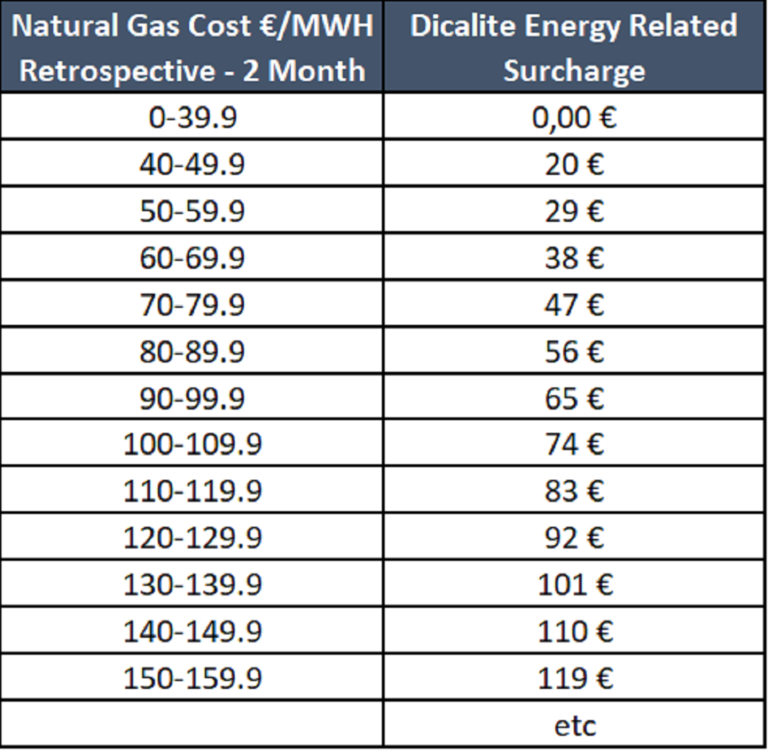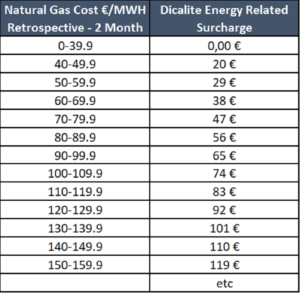 | | Surcharge Per Ton | Natural Gas € / MWh by Month |
| --- | --- | --- |
| January | | 84.5€/MWh |
| February | | 81.2€/MWh |
| March | 56€/mt * | 130,1€/MWh |
| April | 56€/mt * | 103€/MWh |
| May | 101€/mt * | 94.33€/MWh |
| June | 74€/mt * | 105,99€/MWh |
| July | 65€/mt * | 169,75€/MWh |
| August | 74€/mt * | 233,82€/MWh |
| September | 128€/mt * | 205,82€/MWh |
| October | 191€/mt * | |
| November | 164€/mt | |
| December | | |
*Please note that each month's surcharge is based on the gas price of 2 months prior.