Chemrock Cryogenics UK, Ltd.
Expanded Perlite on Demand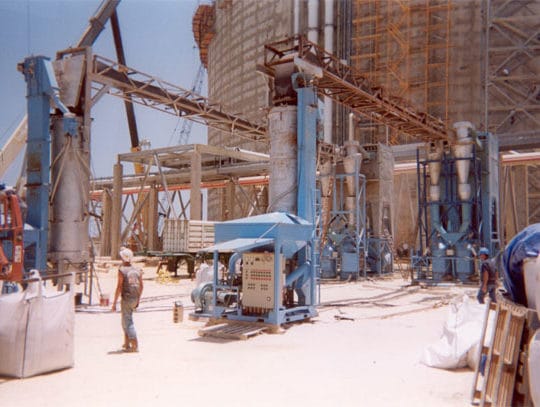 Since Chemrock is the largest, best financed and most experienced perlite installation contractor in the world, we are able to offer our customers the benefit of the knowledge gained during insulation of several hundred tanks worldwide. These tanks cover the whole range of sizes from small to the largest ever built. In line with the trend for ever larger tanks, many of the recent projects we have worked on involve enormous tanks with diameters around 80 m, including, seven tanks at Ras Laffan in Qatar, two at Point Fortin in Trinidad, three tanks for Botas near Istanbul, Turkey and one in Puerto Rico which was filled ahead of schedule using two portable plants which expanded up to 83 MT per day.
We own 3 portable expansion plants, which we can bring into action all over the world. Our small portable expansion unit has a capacity of 11 m³/h and is used for tanks up to 3000 m³. The two big portable expansion units have a capacity of 25 m³/h each and are used for big tanks of more than 3000 m³. If the tanks are smaller than 1000 m³ it is probably more interesting to ship the expanded perlite rather than producing it on site.
The tanks at Point Fortin were completed ahead of schedule by using our two big portable expansion plants simultaneously, a very difficult operation but one that was successfully achieved by our experienced crews. The perlite in many tanks has been internally vibrated using our unique multi-probe system, which has many advantages over a vibrating plate vibrator. Chemrock holds a patent on this multi-probe system.
Our procedures for recording progress on the job have developed into a Quality Assurance system second to none to satisfy the client that the perlite as installed is within specification and on schedule.
Advantages of expanded perlite as insulating material
Very low thermal conductivity – λs = 0.034 – 0.042 W/(m.K)
Very low moisture content
Free from organic materials – solubility in carbon tetrachloride = traces
Fully safe to human health – contains no crystalline silica (not detectable)
Applications
Storage tanks for liquefied gases: ammonia, nitrogen, ethylene, argon, etc.
Cold boxes in oxygen production
LNG and other gas tankers
Deliveries
In big bags of 1 or 2 m³
In approx. 60 m³ bulk trucks equipped with a pressure delivery system
Direct from our portable expanding units on the job site
---
Chemrock Cryogenics UK, Ltd is ISO 9001:2015 certified
---